(contains affiliated links see disclosure in footer)
Hey fur buddies I got mom to finish the birdhouse. I was going to paint it myself by dipping my paws in the paint but mom said no. Here's mom to tell you how I, no she did it the birdhouse.
Now that Frankie's out of the way here's what you'll need first:
Birdhouse
Gesso
Paints
Paint Brushes
Embellishments i.e jewels, gears or anything you what to put on it
Glue Gun
First off here's how it looked in the beginning.
Proceed to cover the birdhouse with gesso so it will hold whatever you use to paint it with i.e. acrylics, spray inks or in my case glitter acrylics and distress paints in brass.
Be careful when painting I recommend not using the dauber part it actually broke the part over the door on the birdhouse. So use a paint brush it's easier. I used blue acrylic glitter paint for the body of the birdhouse for the shabby chic part and the distress paint in brass for the steam punk look. After you finish painting you can start embellishing with gear and jewels to your hearts abandon this is the fun part. You can find the jewels and gears at Walmart, Joann's or any craft store or even a thrift store.





See mom jewels are prettier on the roof then those smelly gears. I didn't wont to say it but I told you so mom.
Be sure and check out the shop and crafting kitties new designs as well as his crafting kitty graphic for you crafters with kitty helpers.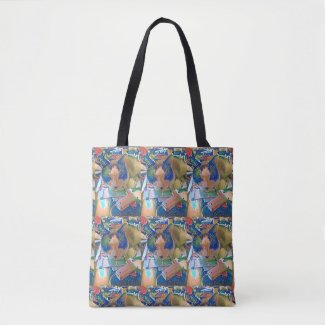 snowshoe crafting kitty tote bag
by
artsylorraine
I actually own this bag and it turned out really cool so check it out.